The Thanksgiving Deathrun Map is a map that was used by Vanoss for a Thanksgiving themed deathrun in 2016.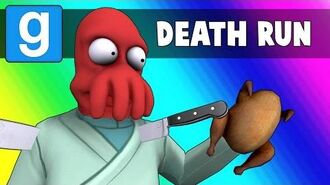 A plate that, when upon triggered can rain down a large amount of sausages, croissants, and potatoes. Nogla is the only person to die from this trap. Vanoss managed to somehow survive this on a replay of the map.
Pepsi cans that are spinning clockwise, technically a speedrun, the cans can however be triggered to suddenly change the direction of movement to most likely kill players quicker, Wildcat, Basically, Vanoss, and Nogla died on this trap.
A loaf of bread, when triggered can instantly move and crush a player, Wildcat was the only person that died on this trap, although he died twice on this same trap.
Oreos that disappear after a short amount of time when jumped on, if you fall, you fall into a pit of "Mushy peas" and die. Speedrun based trap that involves crouch jumping. Vanoss and Wildcat both died on this trap.
Sausages being cooked while being roasted, you must keep your balance on the rolling bar or you will fall into the fire and die. Scotty was the only person that learned how to properly clear this trap, as the others were unable to.
Knives, you have to crouch jump in order to clear the knives that are lain across the table, This trap was very difficult to complete, Basically died many times on this trap, as others had some difficulty.
A plate, above the plate is a lid, when activated, the lid falls onto the plate and kills players, Nobody died on this trap.
An ordinary plate, though when triggered, the plate is thrown from the table and can kill players. Scotty and Nogla both died on this trap.
Friendship Test based trap, Vanoss died on this trap.
Oreo, but when triggered can let off a chain of explosions, Scotty and Nogla both died on this trap.
A plate with food on, when triggered, part of the table can break causing the plate to food, and can kill players. Scotty is the only person to die on this trap.
Another map was made most likely in tribute to this map that was used, and included some of the features from the previous map in 2017.
Basically is known to dislike knife traps nowadays when it comes to deathruns involving Thanksgiving.
Community content is available under
CC-BY-SA
unless otherwise noted.