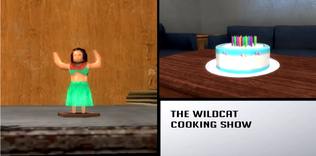 The Wildcat Cooking Show is a cooking-based TV series that is hosted by I AM WILDCAT.
The show is based around where Wildcat shows people how to cook stuff, one episode featured Wildcat teaching viewers on how to prepare a "nice lobster dish"
It was aired as one of the segments of Gmod Cooking Show, Captain America Skits, Hail Hydra! (Garry's Mod Sandbox Funny Moments & Skits) which aired on July 23rd 2014.
It is known that Wildcats cooking methods are unusual and unhygenic, such as placing shit on the stove, and putting a live missile in the stove that caused the lobster to fly out of the stove.
The intro to The Wildcat Cooking Show was reused for the Best Moments of 2014 which aired on January 2nd 2015.
Community content is available under
CC-BY-SA
unless otherwise noted.